1. TWO SEATS, TWO CHARACTERS Kněžívka is an administrative part of the village of Tuchoměřice, historically these are two different, though strongly interconnected, settlements. To this day, their difference is evident. In mutual comparison, Tuchoměřice is a large village, rising high above the valley of the Únětický stream. In Tuchoměřice there are significant buildings and institutions such as a monastery, primary school, kindergarten, municipal office and many other civic amenities. On the other hand, Kněžívka has preserved the character of a small village with several dozen buildings, hidden in the valley of the stream. The goal of the study is promoting this rural character while maintaining the natural links between both seats.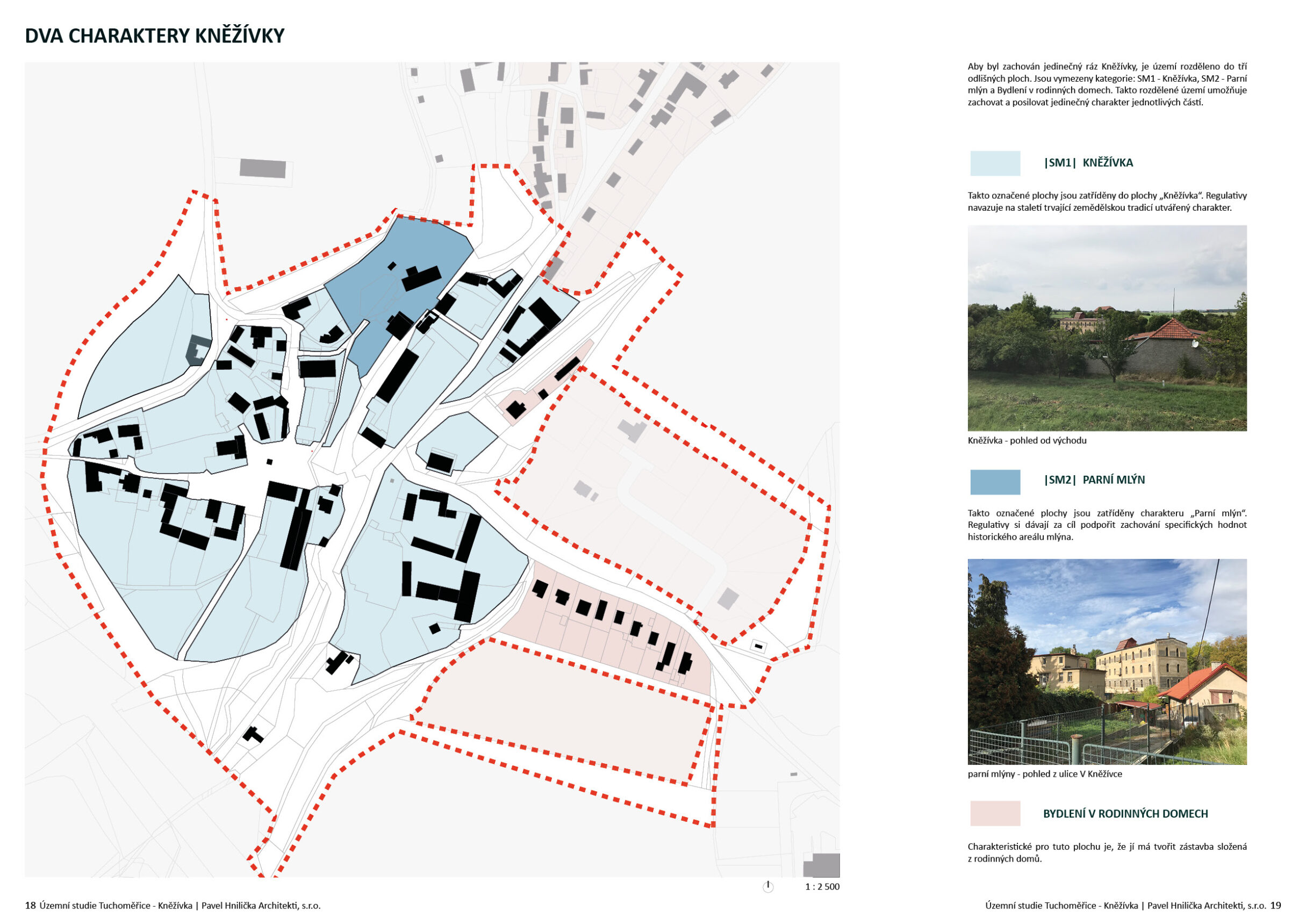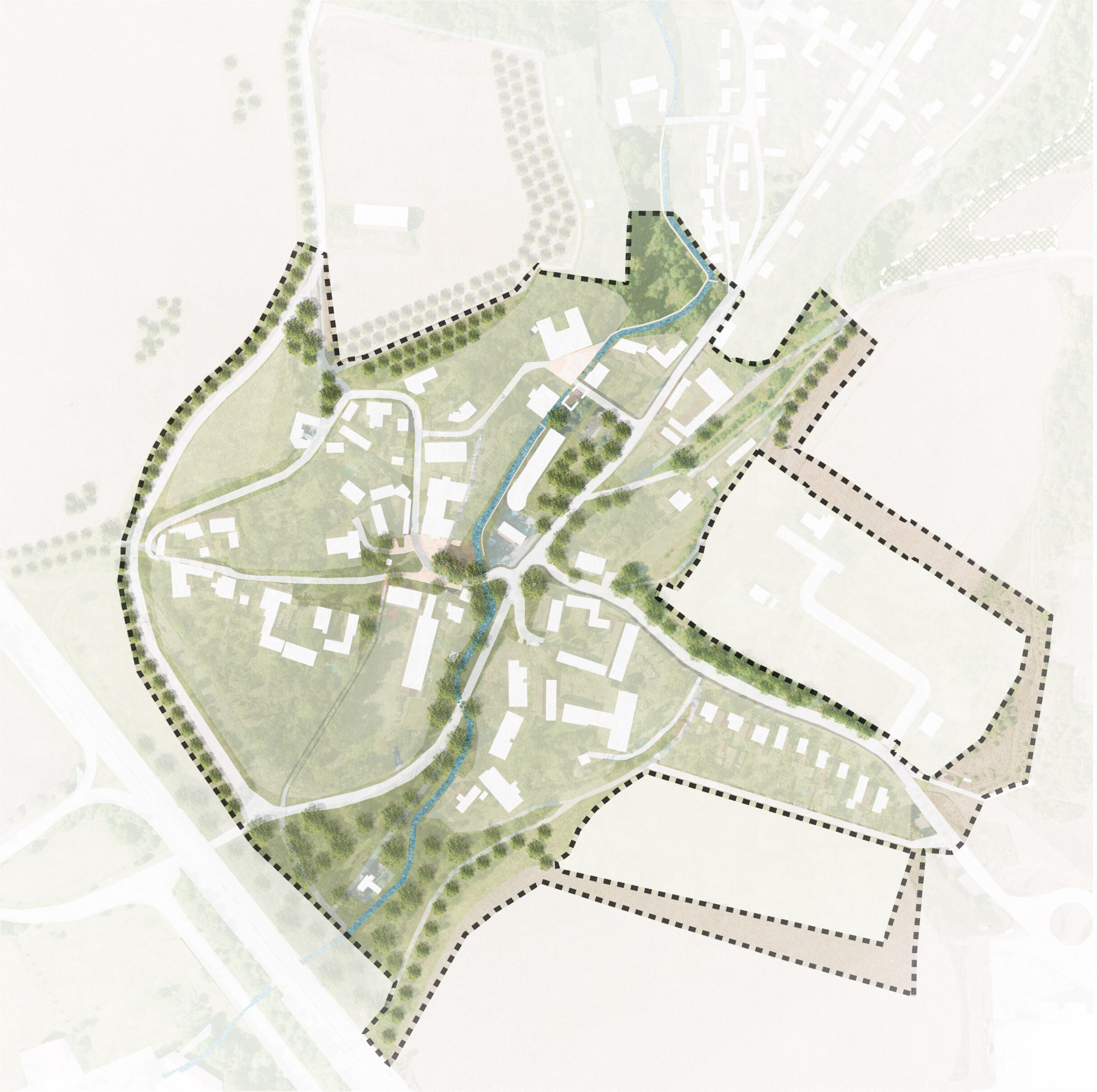 2. DEFINITION OF THE SETTLEMENT AND LANDSCAPES INTERFACE
An important value of Kněžívka is its natural setting in the landscape. The study further develops this potential, it proposes to support traditional elements such as local tree paths or orchards. The goal is to create a clear interface supporting the rural character of the settlement and the biodiversity of the landscape.
3. THE STREAM ROUTE AS A CONNECTING ELEMENT The Únětický stream is currently not integrated into the public space of the village, it only fulfills the role of a line barrier. As part of the revitalization of the stream, a path will be created copying the natural meanders bridging the unevenness of sloping shores and complementing inaccessible places. New footbridges and relaxation areas will transform the existing barrier into a permeable and attractive part of the public space.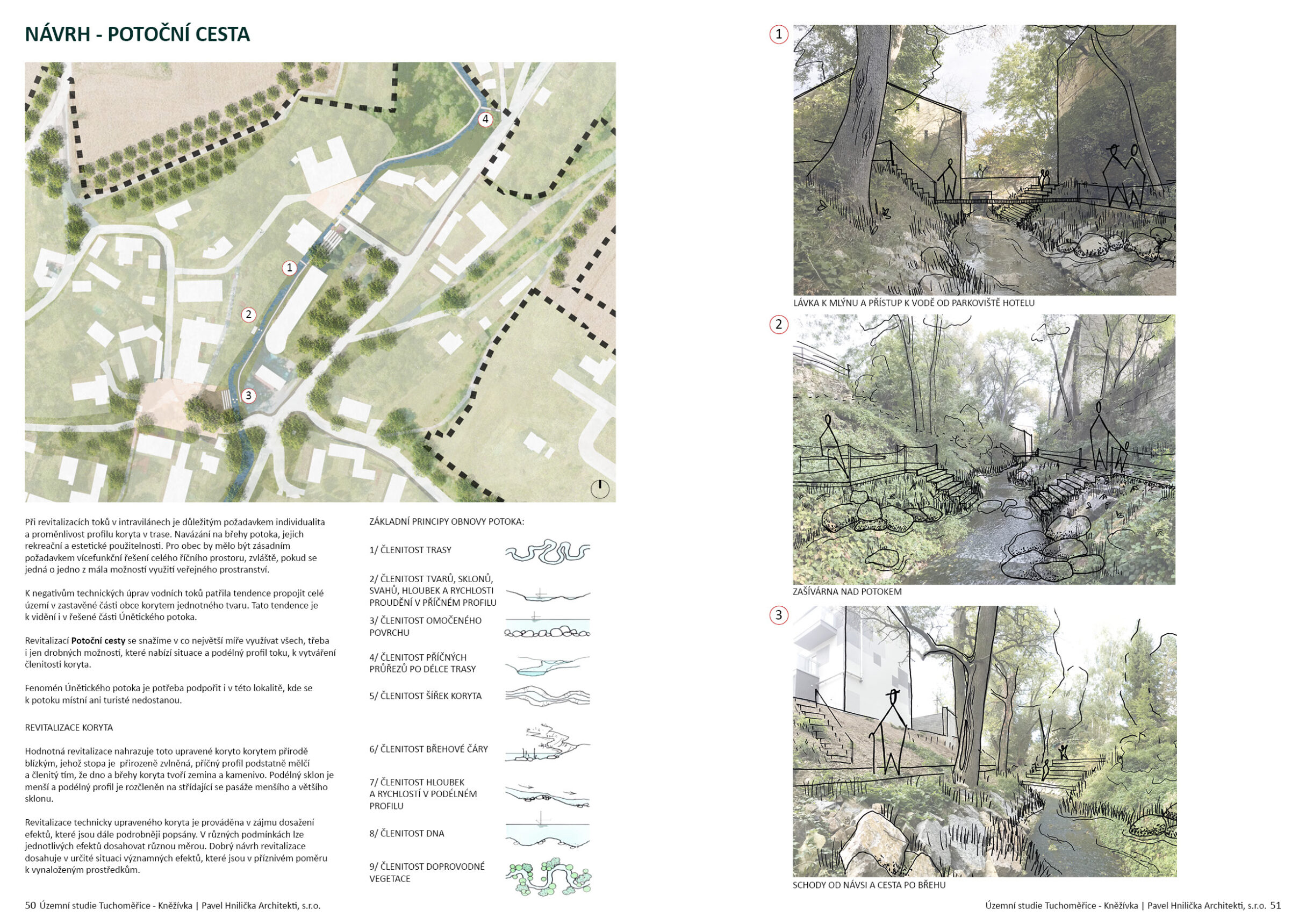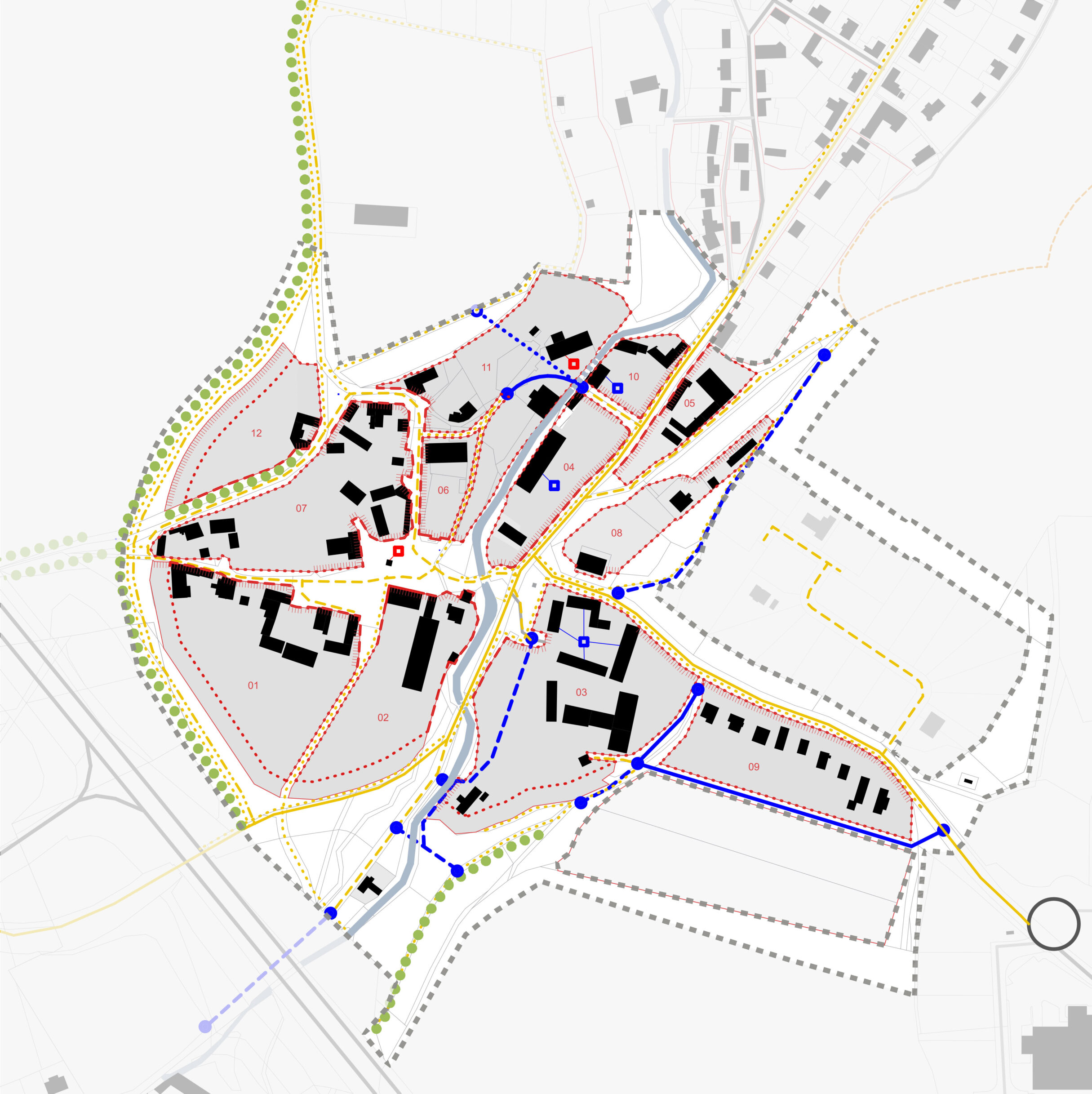 4. STEAM MILLS An important element in the urbanism of Kněžívka is the area of ​​former steam mills, especially the historic mill building itself. A four-storey building of a specific architectural solution is a fundamental orientation and compositional point of the area. One of the aims of the study is to support its values.
5. STRUCTURE OF THE STREET NETWORK AND PUBLIC AREAS An important element of the proposal is to improve the permeability and legibility of the area. The existing street network is supplemented by new paths in the main residental part and in the countryside. In the center of the village, on the right bank of the Únětický brook, there is a village square with the chapel of St. Wenceslas. The study expands the structure of the village by several others living areas. The role of the village square, as the natural center of the settlement, is supported by its overall restoration.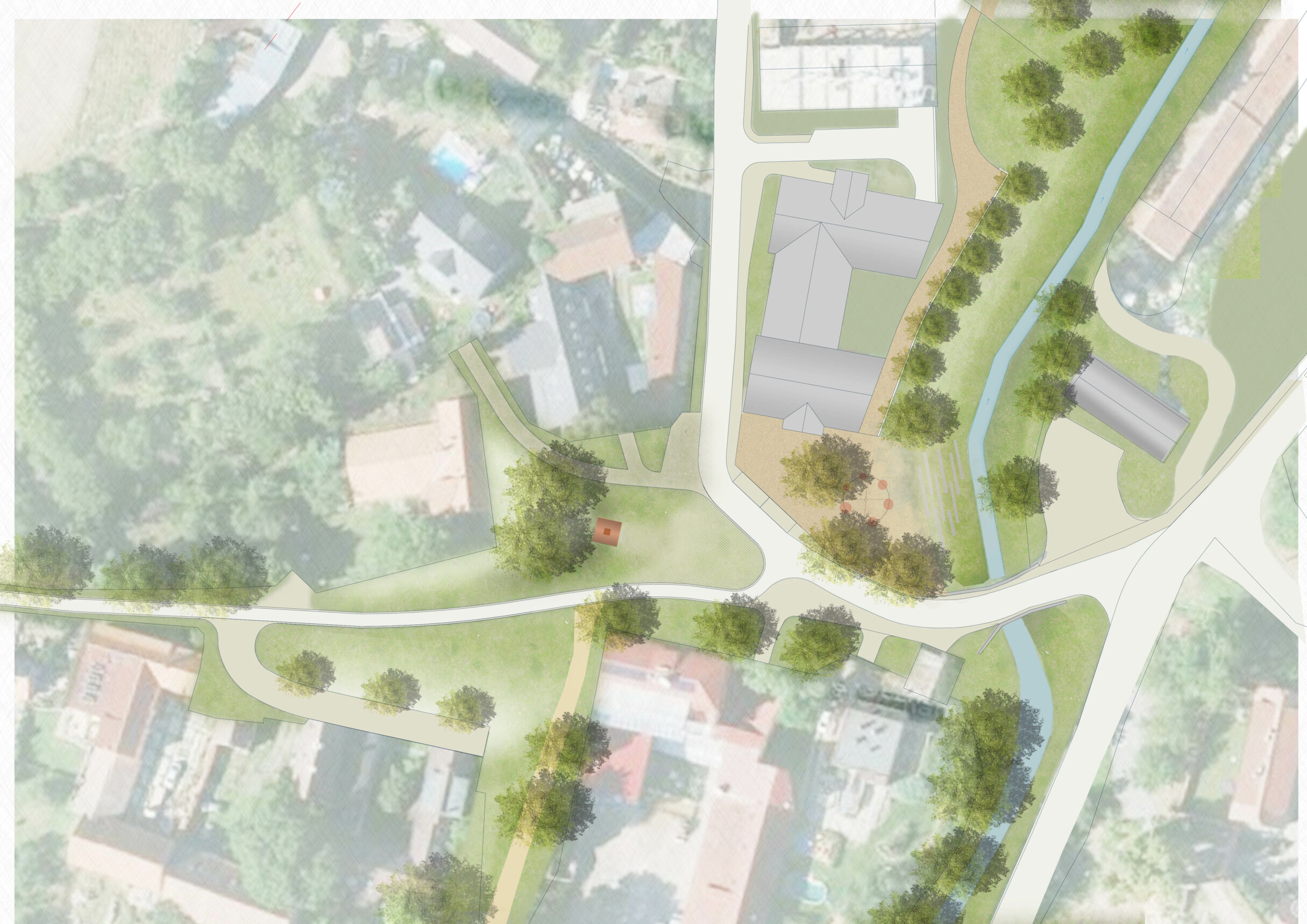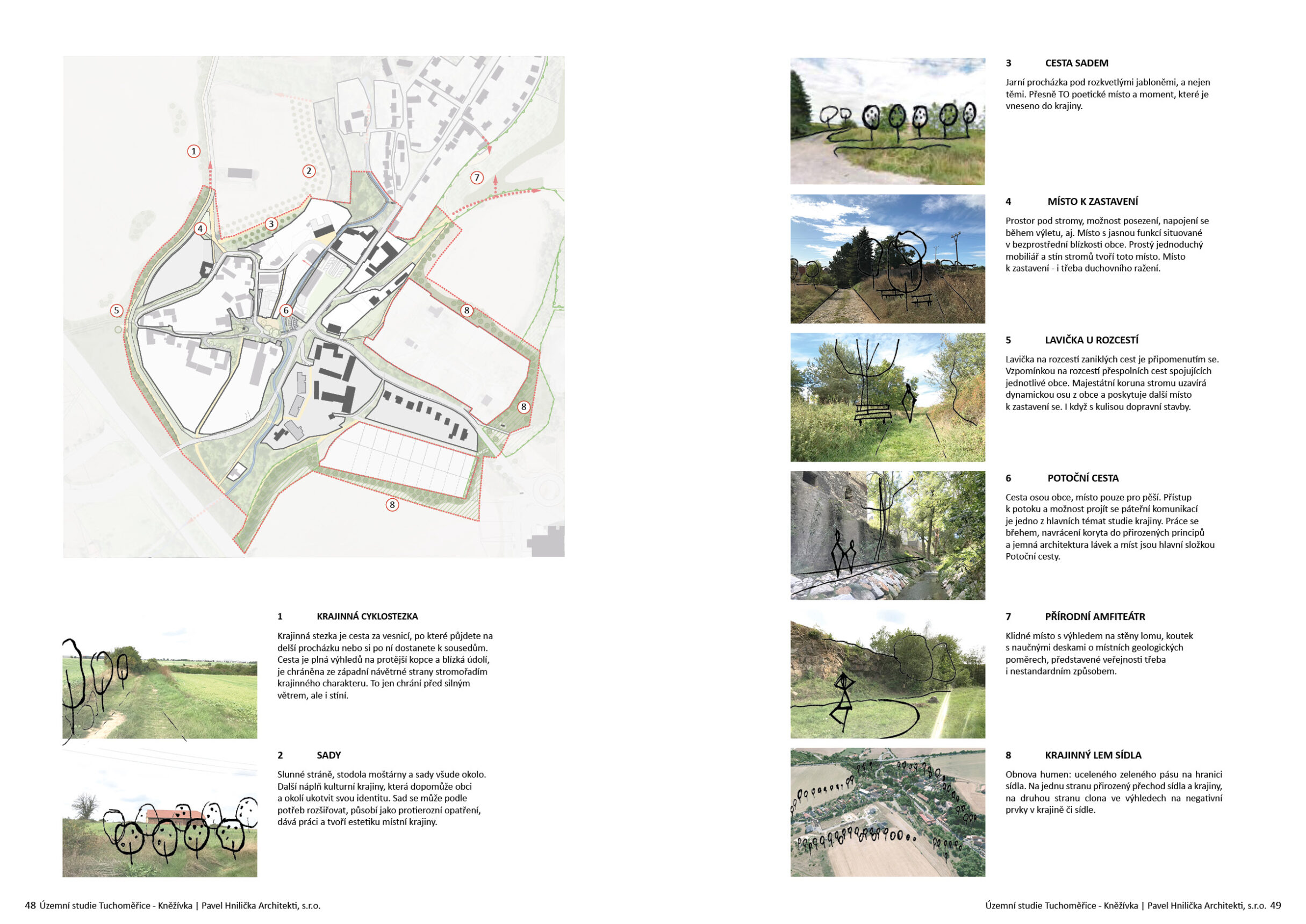 6. CONNECTION WITH THE LANDSCAPE The study proposes a number of new (mostly pedestrian) connections between the urban area of ​​the village and the surrounding landscape. Mysterious paths arise at the interface of both environments. This traditional element allows a natural connection of the urbanized area of ​​the village with the extravillain. Instead of sharp borders lively interfaces ideal for pedestrians and cyclists are created, supporting biodiversity and protecting marginal plots from negative influences from the surrounding fields.